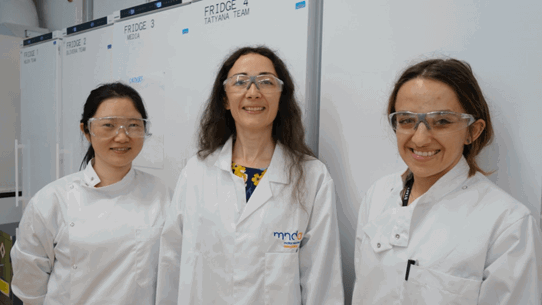 5 April 2022
TS and Guillaume Hautbergue were awarded a 3-year MRC research grant to establish a biochemical assay for analysis of ALS-linked RNP complexes, suitable for screening of small molecules. The recruitment on this grant (3-year postdoctoral position, full time) to begin soon (will be posted here).
4 February 2022
TS and Kurt De Vos have been awarded a PhD studentship to identify drugs that modulate STMN2 splicing, by MND Scotland. Needless to say that we are honored and excited to be selected within this completive scheme. The project is currently advertised on Findaphd, until 6th May:
https://www.findaphd.com/phds/project/small-molecule-modulators-of-alternative-splicing-as-a-novel-therapy-for-amyotrophic-lateral-sclerosis-als/?p143014
6 September 2021
Lab has moved to SITraN, Sheffield. Exciting times!!
5 May 2021
Tatyana has been awarded a BBSRC grant, together with Nicolas Locker from Surrey, to look into the molecular mechanisms of stress granule - paraspeckle crosstalk.
16 March 2021
MND Research blog about our work was published, check it here:
https://mndresearch.blog/2021/03/16/flexible-molecules-and-droplets-researching-and-targeting-rna-protein-complexes-in-mnd/
02 March 2021
Our study on the analysis of FUS aggregate composition is now available as a preprint:
https://www.biorxiv.org/content/10.1101/2021.03.02.433611v1
11 January 2021
The paper with our collaborators in Tokyo, Nevada and Moscow has been accepted for publication at the RNA Biology journal.
08 December 2020
Tatyana is this year's winner of the ENCALS Young Investigator Award!
07 October 2020
The lab has received a grant from the Welsh Government for a COVID-19 drug discovery project. Can't wait to start it!
04 May 2020
Our paper on neurological phenotypes in Neat1 knockout mice (previously available as preprint), with Haiyan, Camille and Tatyana as authors, has been accepted for publication in the Translational Psychiatry journal.
30 April 2020
Our paper on the effect of FUS frameshift mutations, with Haiyan, Camille and Tatyana as authors, has been accepted for publication in the Molecular Brain journal.
12 February 2020
Tatyana presented at CU School of Dentistry seminar: "Therapeutic targeting of RNA – expanding the boundaries of the druggable genome?"
14 January 2020
Tatyana invited to give a talk on paraspeckle regulation by stress granules at the RNA UK 2020 meeting
https://www.rnauk2020.org/
21 November 2019
Invited commentary on our J Cell Biol paper was published in Cell Stress
check free text:
https://www.cell-stress.com/researcharticles/2019a-an-microbial-cell/
23 October 2019
Haiyan had her PhD viva – only minor corrections! Congratulations!!!
23 September 2019
The very first lab's preprint, with Haiyan, Camille and Tatyana as authors, published on bioRxiv:
https://www.biorxiv.org/content/10.1101/773333v1